Dapol Doctor Who Experience
Video Walking Tour
August 2002
Exhibition Closed in December 2003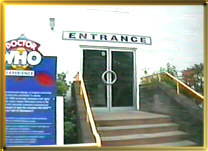 Brian Mattocks, a super guy and supporter of this website, visited the Dapol Exhibition in Llangollen in August 2002. Taking his video camera with him, Brian recorded the day for us. So for all of us that can't make it to the exhibition this is a rare opportunity to see the sites and hear the sounds of this great doctor who experience.
Thanks Brian for passing along this wonderful bit of Doctor Who fandom!

Video Walking tour of the Dapol Doctor Who Experience
Time
Sit back and watch the whole tour
18:45
Not up for the full tour then take it a bit at a time
The Entrance, Console Room
2:45
Attacking Dalek
0:41
Doctor Costumes
2:17
Sea Devils, K9, Omega, Gundon, Cybermen
5:01
Terminus, Kinda, Tracktater, Sil, Vervoids, Time lords, Candyman, Daleks
7:05
Become a Dalek
0:50
Art Gallery
0:27
Bessie
0:51
Bessie, Gift Shop
0:46

All of the images on this page are the property of Brian Mattocks and may not be used or reproduced in anyway without his explicit written consent.





Have a Collecting question then try the



If you collect Doctor Who costumes, props, scripts, Artwork, set designs, or commercial items we would love to add your collection to the list. (click) For more information...