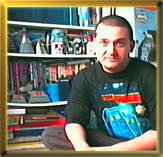 Brian is a resident of Wigan in the United Kingdom where he has been collecting Doctor who and related items since he was nine years old. Seeing "Destiny of the Daleks" on the Tele was the spark that started the Doctor who collecting flame and since that faithful day the torch has burned bright.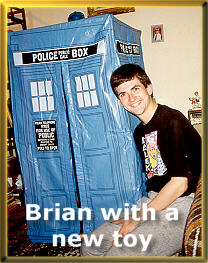 The Denys Fisher toys hold a special place in his collection because they were the toys he played with as a young boy. Brian still has the Shortman Trading Tardis Tuner radio he played with those many years ago, still in working order. His mint condition Tardis tent is now filled from top to bottom with show memorabilia making for a grand surprise when you open the doors. A Harvard Associates Tardis Video Cabinet commands a prominent location in Brian's display room, housing his collection of story novelizations rather then the expected tapes.
Brian is proud to own a working example of the Chad Valley Doctor Who Give-A-Show Projector set with all the bits and a great box. He would like to expand his collection of early items from the 1960s but the scarcity of these has limited his ability. If you ask, Brian will show you his "Doctor Who Candy Favorites" box of white chocolates from Goodies. This 1979 confectionary is best looked at while holding your nose because it has developed a bouquet that is less then appetizing. Predominately acquiring his collectables from shops and mail order Brian has amassed a huge collection through sheer determination and hopes to take advantage of the many on-line avenues in the near future.
Visits Brian's PETERS & LEE web site