Jameson Convention
12 June 2005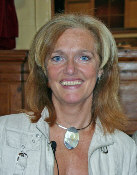 This one-day event held at the Counting House in Edinburgh Scotland was an up front and personal meeting with Louise Jameson. The intimate setting provided a day everyone will remember fondly.

Our good friend Colin Young attended the event and passed along these photos.
Thanks Col!


All of the pictures on this page are the property of Collin Young and may not be used or reproduced in any way without his explicit written consent.




Have a Collecting question then try the



If you collect Doctor Who costumes, props, scripts, Artwork, set designs, or commercial items we would love to add your collection to the list. (click) For more information...