The Needles at Alum Bay
Isle of Wight
July 1994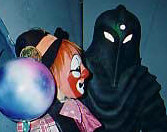 These photos of the Doctor Who exhibition on the Isle of Wight were taken by Matt Parish back in 1994. This small, short lived display of Doctor Who props was situated at The Needles Park in Alum Bay. The park overlooks the Island's most famous landmark, The Needles Rocks and Lighthouse.
Thanks for sharing the photos Matt!

All of the pictures on this page are the property of Matt Parish and may not be used or reproduced in anyway without his explicit written consent.




Have a Collecting question then try the



If you collect Doctor Who costumes, props, scripts, Artwork, set designs, or commercial items we would love to add your collection to the list. (click) For more information...