Madame Tussaud's
April 1999


The Doctor Who Experience at Madame Tussaud's has been closed down for many many years now. When figures from exhibitions are no longer needed they are usually dismantled, with the "characteristic" features (usually the head and hands) stored away, ready to be resurrected if they are ever needed again. One room in Tussaud's houses a bizarre collection of dismembered figures with shelves upon shelves full of heads and hands. During a April 1999 visit Scott Lindsay snapped this photo of the Tom Baker's head next to a decapitated Meglos.
Thanks for passing the picture along Scott!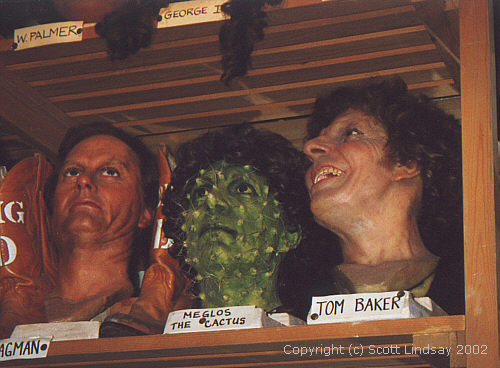 All of the pictures on this page are the property of Scott Lindsay and may not be used or reproduced in any way without his explicit written consent.





Have a Collecting question then try the



If you collect Doctor Who costumes, props, scripts, Artwork, set designs, or commercial items we would love to add your collection to the list. (click) For more information...