Longleat House 3 April 1983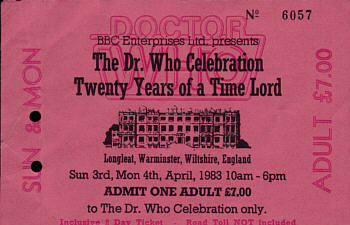 These pictures are from the now famous Doctor Who 20th anniversary celebration at Longleat House in Warminster Wiltshire England. This event drew far more people then the organizer ever imagined and many were turned away. Steven Smith, a great supporter of this website was one of the lucky people to make it to Longleat that faithful weekend. Standing at the front of the queue when the doors opened Sunday with his friends Gordon Lawson, Russell Atkinson and Nigel Harrott who all made the pilgrimage to Longleat together. Sadly Steven has lost touch with them all now and would love to hear from them. Steven has chosen to share his pictures of that event with us.
Thanks Steven!

Lord Bath

Bessie

Dalek Display

Dalek Display

Jon Pertwee emerges from the Tardis

Jon Speaks to the crowd

The UNIT panel

Peter Davison in costume

Pertwee at the auction

Carole Ann Ford auctions a Cyberhelmet

Black Orchid costume

Costume display

Omega costume

K9 showing his heart

Set display from The Five Doctors

Set display from The Five Doctors


Timelord Costume

The auction list from
that weekend is available
Go
All of the pictures on this page are the property of Steven Smith and may not be used or reproduced in anyway without his explicit written consent.




Have a Collecting question then try the



If you collect Doctor Who costumes, props, scripts, Artwork, set designs, or commercial items we would love to add your collection to the list. (click) For more information...