Longleat House
3 April 1983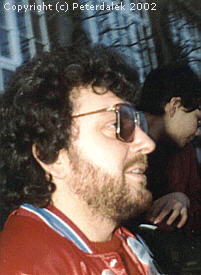 These pictures of the Doctor Who 20th anniversary celebration at Longleat House were provided by Peter in Kent.
Being one of the lucky few to be there he was a firsthand witness to history being made.
Thanks for sharing the pictures with us Peter!


Black Orchid Harlequin Costume

White and Black Guardians

Cameleon

Cyberman

Dalek

Entrance

Entrance honor guard

Janet Fielding

Janet Fielding

Kraal Costume

Meglos

Movellan

Nyssa Costume

Omega Costume

Timelord Peter

Peter and friends

Spect

Sontaran and Mawdryn

Sontaran Costume

Tardis Console Room

Timelord Council room

Tom Baker

Nicholas Courtney and Tom Baker

Nicholas Courtney

Roaming Timelord

Cyberguard

Cyberman

John Nathan-Turner

Tom Baker

Tom Baker

Janet Fielding

Janet Fielding

The auction list from
that weekend is available
Go
All of the pictures on this page are the property of Peterdalek and may not be used or reproduced in anyway without his explicit written consent.




Have a Collecting question then try the



If you collect Doctor Who costumes, props, scripts, Artwork, set designs, or commercial items we would love to add your collection to the list. (click) For more information...