Dapol Doctor Who Experience
Lower Dee Exhibition Centre
Llangollen North Wales
August 2, 2003
Exhibition Closed in December 2003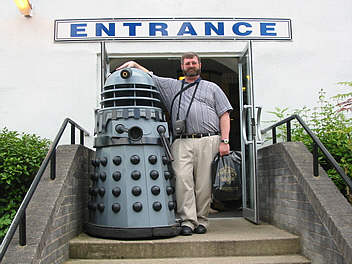 Richard Briggs took these photos during his 2003 UK road trip. Sadly the Dapol Exhibition in Llangollen is to close at the end of the year. The long run of this venue will come to an end and the props will move on to new locations but the Dapol Doctor Who Experience will live on forever in our photos and memories.
Page 1 of 4


Click on the photos to see a larger view of it.
Page 1 of 4
Previous | Home | Next
1 2 3 4
All of the pictures on this page are the property of Richard Briggs and may not be used or reproduced in anyway without his explicit written consent.




Have a Collecting question then try the



If you collect Doctor Who costumes, props, scripts, Artwork, set designs, or commercial items we would love to add your collection to the list. (click) For more information...