Dapol Doctor Who Experience
in the Lower Dee Exhibition Centre
Llangollen North Wales 2002
Exhibition Closed in December 2003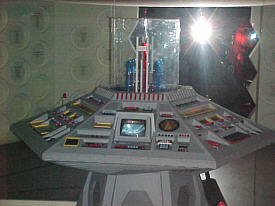 Leon Hughes, a long time member of this website, made the 3 hour drive from his home to the Dapol Exhibition center at Llangollen. After spending the day reveling in the memories of Dr Who he made the drive home again. Leon describes the 6 hour drive as
"WORTH IT".
Leon passed along some pictures of the day to share with us.
Thanks Leon!
All of the pictures on this page are the property of Leon Hughes and may not be used or reproduced in anyway without his explicit written consent.





Have a Collecting question then try the



If you collect Doctor Who costumes, props, scripts, Artwork, set designs, or commercial items we would love to add your collection to the list. (click) For more information...