Whoniverse Convention
August 1990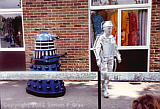 Whoniverse was a one day event on the campus of Abingdon School.
Matt and Sarah Parish attended this day in Who history and passed along these wonderful pictures.
Thanks you guys!
Master of ceremony Mark Short interviewing Cyber-leader, David Banks

Mark Short with John Nathan-Turner

Salvador Dalek (right) and friend

Mark Short with the "Marvel Comics" panel, including John Freeman

Dalek, Cyberman and Costumes in the window


Click on page for a readable version
All of the pictures on this page are the property of Matt and Sarah Parish and may not be used or reproduced in any way without his explicit written consent.




Have a Collecting question then try the



If you collect Doctor Who costumes, props, scripts, Artwork, set designs, or commercial items we would love to add your collection to the list. (click) For more information...