Invasion V
23 July 2005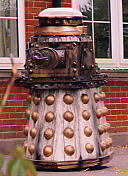 Invasion V was the fifth one day Doctor Who convention sponsored by the Tenth Planet SciFi store in Barking, Essex. With just over 250 people attending the event this year as result of the abrupt change of the event date. A new venue was used this time, the Barking Abbey School, replacing the usual Barking Library that was undergoing renovations. The guest list included John Barrowman, Janet Fielding, Angela Bruce, Brian Blessed, Royce Mills, Julian Glover, Noel Clarke, Jimmy Vee and Paul Kasey.

Our good friend Jenny Martin attended the event and passed along these photos.
Thanks Jenny!


Costumes

Costumes

Noel Clarke aka Mickey Smith

Jimmy Vee who played the Moxx of Balhoon in The End of the World and the Pig from Aliens of London

Dalek - lunch time attack

Reinforcement Dalek

Jimmy Vee coming on stage

Jimmy picking out a winner for one of the raffle competitions

Remaining guests on stage for a photo opportunity

Stage props

Stage props
All of the pictures on this page are the property of Jenny Martin and may not be used or reproduced in any way without her explicit written consent.




Have a Collecting question then try the



If you collect Doctor Who costumes, props, scripts, Artwork, set designs, or commercial items we would love to add your collection to the list. (click) For more information...