Simon Greetham

Simon Greetham lives and resides in Sheffield in the north of England and was born in 1965. He works in the Utilities industry as a Quantity Surveyor and lives with his partner Jill and her daughter. He has 3 other children. Since his very early years he has always had a very keen interest in all things relating to science fiction/fantasy/horror both on the big and small screens. His first remembrances of Dr Who began during the early 1970's with Jon Pertwee and then later Tom Baker.

Simon has always been a collector of film memorabilia relating to the films from HAMMER's Film studios, and the animation work of RAY HARRYHAUSEN, items and original artwork/costumes/props from his collection have been exhibited at numerous and varied exhibitions over the years. Simon has been a contributor to many publications covering these subjects over the years and recently contributed items included in the book "the Dinosaur Films Of Ray Harryhausen."

Simons interest in collecting Dr Who items was re-awoken several years ago after watching"Tomb Of The Cybermen". Having had the usual collection of videos, annuals etc as a child Simon thought it would be nice, with his keen interest in props, to have some replica helmets and masks of some of the Dr's foes. This started with simon obtaining a replica cyberman helmet and it has just carried on. His collection now has over 25 masks and helmets, a full size movie Dalek which has the claim to fame for being used for the Daleks Invasion Of Earth sequence's in "TRIAL Of DAVROS".

He also recently obtained a full replica Sontaron costume, Cybergun and Davros and has recently finished the refurbishment of a replica "cybercontroller" helmet and Cybermat from "TOMB OF THE CYBERMEN" along with his friend Tony who runs TNT HOBBIES.
Simon can be contacted by


Enjoy this small sample of Simon's Collection


VOC Mask
Full size replica helmet / mask of a VOC robot from the story "Robots Of Death".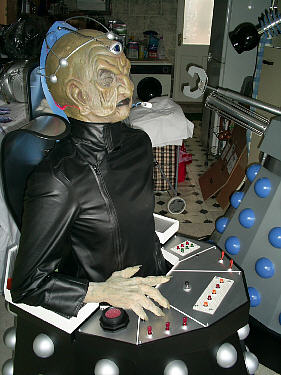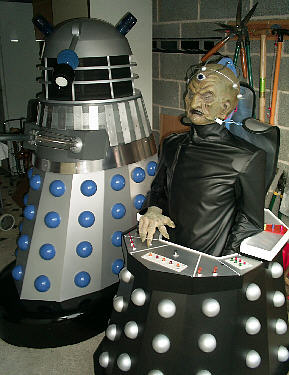 Full scale working prop replica of "DAVROS", this prop was put together over 16 months with the help of numerous people, I have tried to source and use as many faithfull parts as I could find during the final construction phase with regards switches and controls, many many hours of photographic research went into the project along with watching "genesis" on many occasions, the tunic was made by the costume studio in London, and the main body work of the chair was made by Dave Price, the hand and a new mask (not shown) were created by Phil Robinson, the backrest and all the detailing to the front and rear control panels were carried out by myself.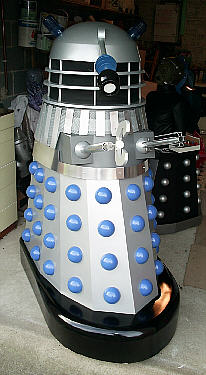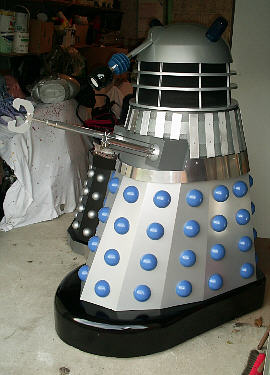 Dalek – 2150 A.D Movie Version
This was made for me by renowned Dalek builder Andy Shaw, various mods have been carried out over the past 2 years including installing a new illuminated eye, new light domes and further detailing mods to the claw arm and weapon arm, and installation of a ring mod, the Dalek also had an important roll in "Hyde Fundraisers" – Trial Of Davros as it appeared in the "Daleks Invasion Earth" sequence filmed for the trial and can be seen throughout the sequence shot in London during August Bank Holiday 2004.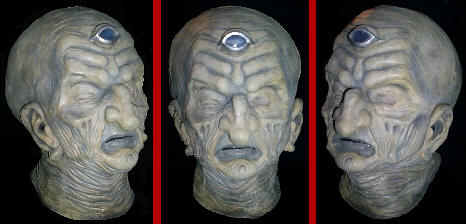 Davros mask
Full size made of latex with working illuminated third eye.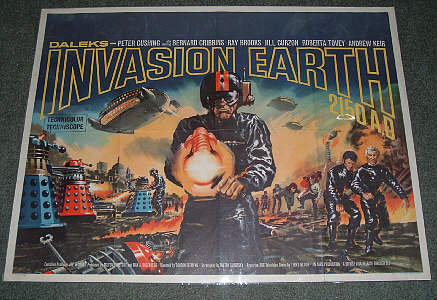 Original UK Quad Poster
Daleks Invasion Earth 2150 A.D.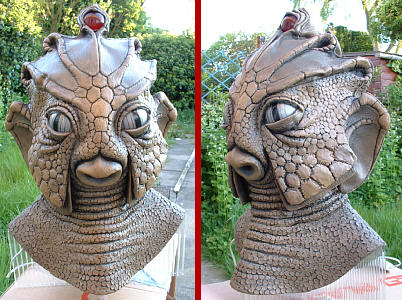 Warriors of the Deep Silurian Mask
Three part cast taken from the original BBC Molds.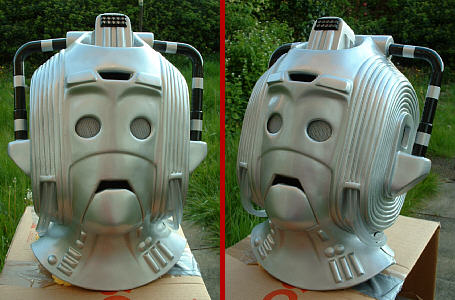 "Earthshock" Cyberman Helmet
Purchased from "This Planet Earth"
Re painted by Tony Barnes of TNT Hobbies.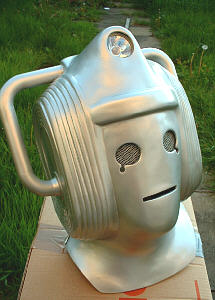 "Invasion" Style
Cyberman Helmet
Purchased from "This Planet Earth"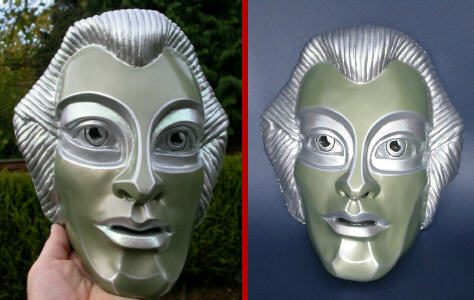 SV7 Voc Robot Mask
Cast from the original BBC mold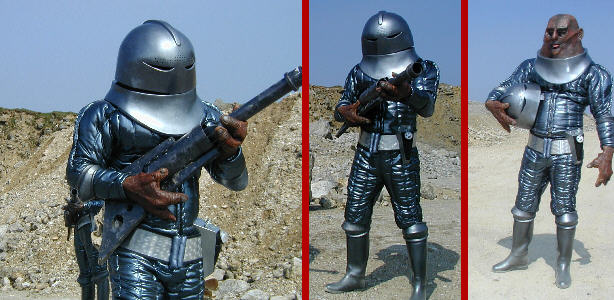 Photos of Simon's Sontaron costume during the filming of "trial Of Davros"
The full costume was made for him in 2004 by a professional costume designer along with all the extras for the costume such as the full head mask, hands, helmet, collar and communicator.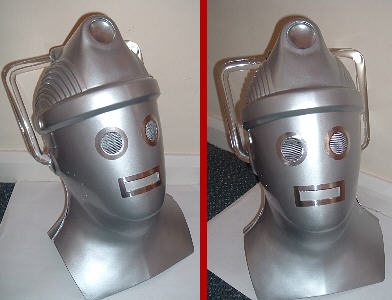 Replica "Tomb" Style Cyberman Helmet
With detachable back plate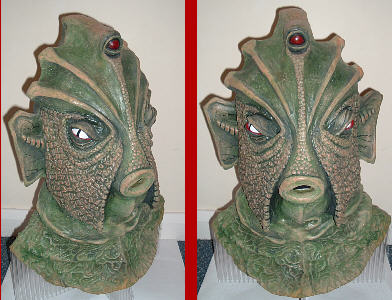 Replica 1970's Style Silurian Mask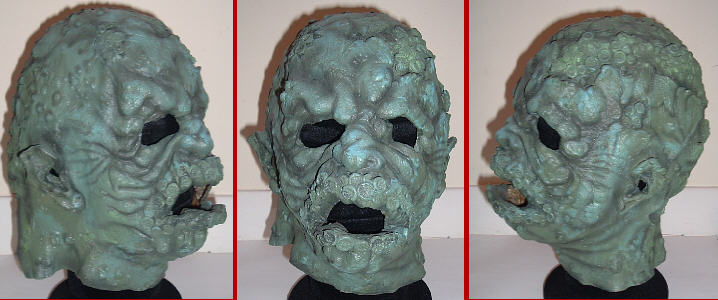 Heamovore Mask
Pulled directly from the BBC molds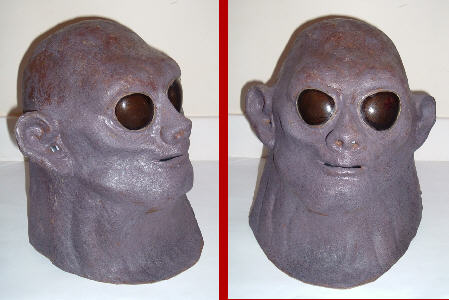 Replica Exxilon Mask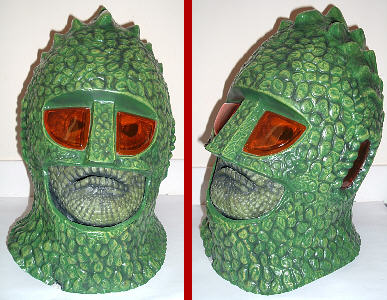 Replica Ice Warrior Mask
| | |
| --- | --- |
| Replica Ogron Mask | Replica Working Cybergun |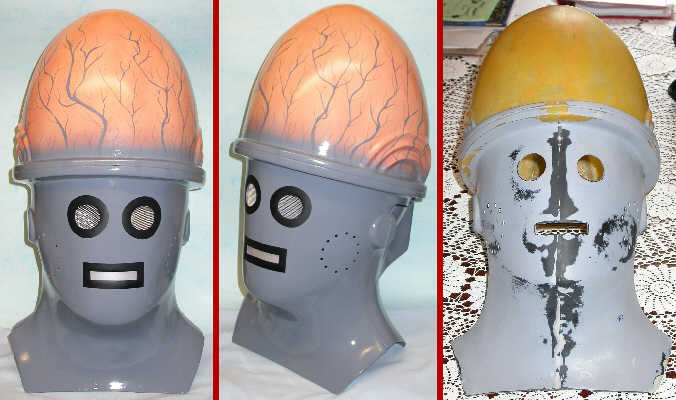 Replica Tomb Cybercontroller Helmet
(right Helmet before restoration)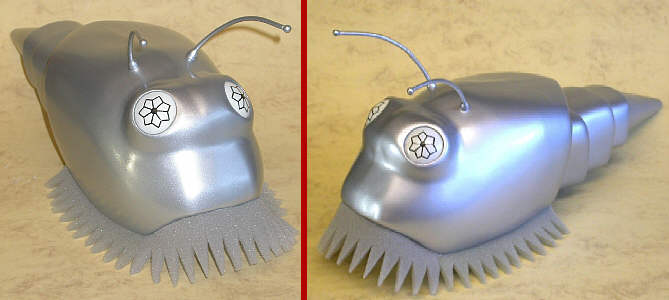 Replica Cybermat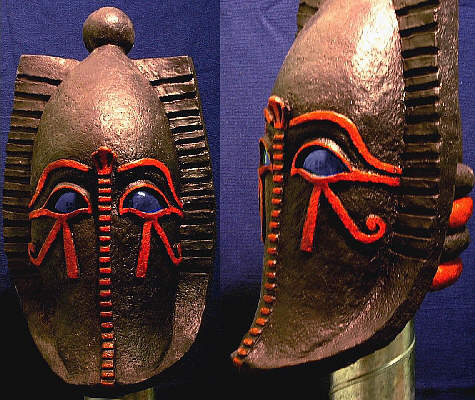 Replica Sutek Mask
| | |
| --- | --- |
| Replica Auton Mask | Replica Revenge Cybermen Helmet |
Several photos on this page used with permission from Simon Blay

Simon can be contacted by


All of the pictures on this page are the property of Simon Greetham and may not be used or reproduced in any way without his explicit written consent.



Have a Collecting question then try the



If you collect Doctor Who costumes, props, scripts, Artwork, set designs, or commercial items we would love to add your collection to the list. (click) For more information...