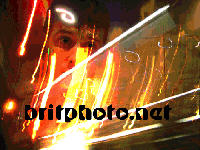 Craig Johnson is a North London resident that has been in the Doctor who collecting game since he was twelve years old. His collection is comprised mainly of videos, books, magazines, autographs, photos, posters and a hole bunch of Daleks. It has grown so large that Craig is forced to store large parts of it away in boxes waiting for the day there is enough space to display it all. He is most pleased with the Denys Fischer Tom Baker figure he recently found at an Oxfam.
When he was fifteen Craig created a Dr Who Fanzine but the BBC and Boxtree declined to pick it up sighting conflicts with some of their upcoming releases around that same time. Craig has a family tie that reaches to the Third Doctor with a uncle that was Jon Pertwee's stuntman in Mind of Evil.
You can find Craig at boot sales, markets and on-line with his eye out for the next treasure to add to his collection. He also raises funds by selling used books on Amazon.
Merry Christmas From the 4th Doctor made by Craig (Windows Media 9 required)
Bring Back the Daleks made by Craig (Windows Media 9 required)
The Toyroom made by Craig (Windows Media 9 required)
Visit Craig's website at www.britphoto.net