Caroline Sinclair

Caroline Sinclair is new to collecting Doctor Who but that does not dampen her enthusiasm. A family woman living in Scotland, Caroline works at home where she peruses her interest in collecting autographs. A member of the Doctor Who Autograph Collectors Club (DWACC) she seeks out the signatures of the cast and crew. One of her fond desires is to find an entire up-to-date list of contact addresses for every single person who has ever appeared in Doctor Who. Caroline maintains a website highlighting her autographs and sharing how she got them.
Just some the Autographs Caroline has acquired
Colin Baker - 2 pictures & flyer TTM (signed & inscribed), also wrote answers on the letter I sent (will need to scan that and send it to you later)
Paul McGann - bought from tenth planet
Mark Strickson - 2 pictures TTM (signed)
Maureen O'Brien - 2 pictures TTM (signed & inscribed)
Deborah Watling - 2 pictures TTM (signed one, signed & inscribed one)
Nicola Bryant - B&W ISP TTM
Bonnie Langford - CISP & letter TTM
John Levene - 3 pictures (all signed & inscribed)
Janet Ellis - 2 pictures (signed one, signed & inscribed one) & handwritten letter (will need to scan and send later)
Visit Caroline's website at http://www.geocities.com/car0line30

Caroline can be contacted by



Enjoy this small sample of Caroline's Collection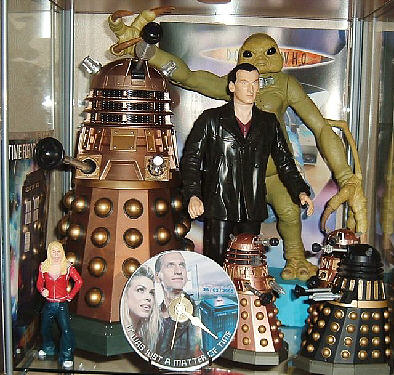 Talking Birthday Card, Slitheen & 9th Doctor Walkie Talkies, 12" Remote Control Dalek, 5" Remote Control Dalek, 5" Dalek Battle Pack with Rose, CD Clock featuring Chris & Billie.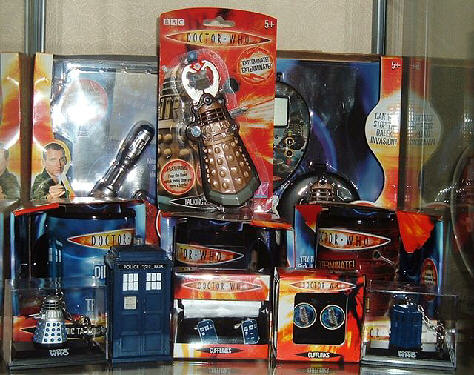 Sonic Screwdriver, LCD Game, Dalek Talking Bottle Opener, TARDIS Talking Mug,The Doctor & Rose Mug, Dalek Talking Mug, M& S Dalek Keyring in display box, TARDIS Phone Alert, 3D TARDIS Cufflinks, Dalek Cufflinks, M&S TARDIS Keyring in display box.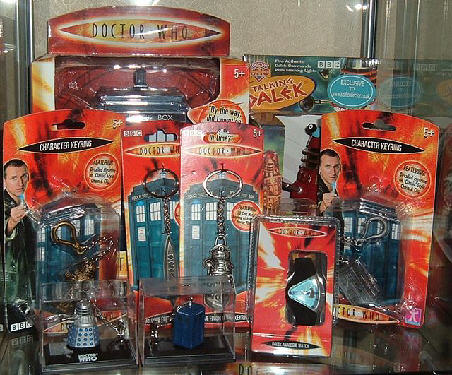 TARDIS Talking Money Box, Talking Dalek, Dalek Keyring, Pewter Logo Keyring, Pewter Dalek Keyring, Dalek Watch, TARDIS Keyring, M&S Dalek Keyring in display box, M&S TARDIS Keyring in display box.
| | |
| --- | --- |
| New series official Doctor Who Bedding featuring The TARDIS, Dalek, Moxx and Slitheen. | K9 Tissue Holder - custom made by Tom's wife Brandy. |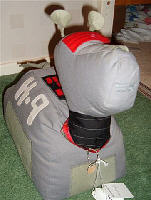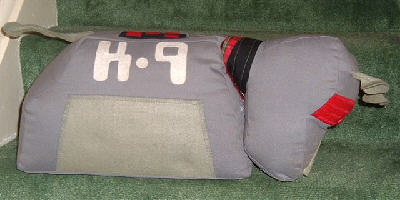 Prototype K9 from John Nathan Turner's private collection
bought from Bonhams Auction House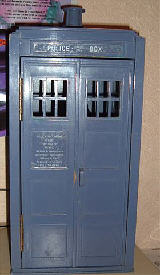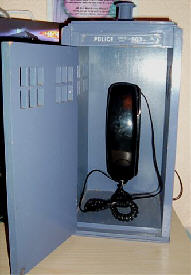 Holdcourt TARDIS Telephone
with original handset
Mr Pilbeam Daleks
Handmade Daleks By Trevor


The Amazing World of Doctor Who Annual - only available from Typhoo Tea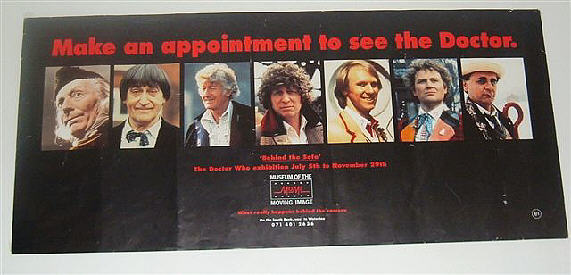 MOMI Poster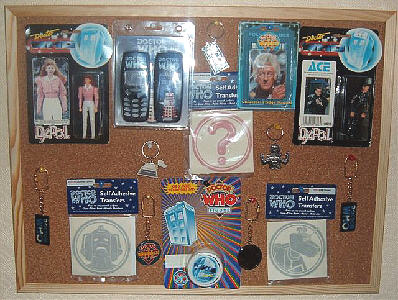 Dapol Mel, Dapol Ace, Mobile Phone Cover, Self Adhesive Transfers: Cyberman, K9 & Question Mark, Yo-yo, Keyrings: Doctor Who Logo (x2), Seal of Rassilon, Doctor Who Diamond Logo, TARDIS, K9 & Cyberman (Australian exclusives), JP Fridge Magnet - won in Terence & Paul's website competition.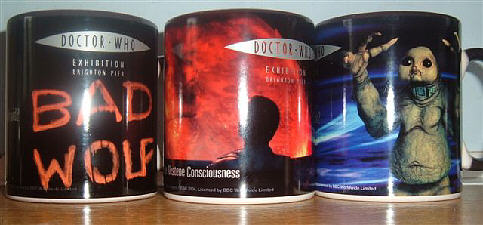 Brighton Pier Exhibition Mugs
Bad Wolf, Slitheen & Nestene Consciousness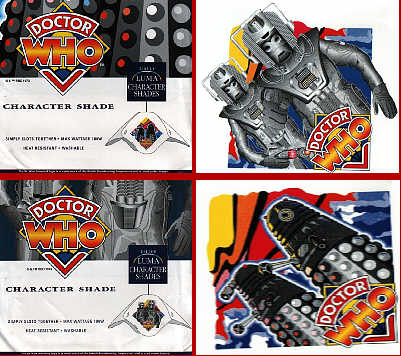 Lampshades by Gibson Lumar Character Shades
| | |
| --- | --- |
| Strictly Ink Costume Cards CC1 & CC2 and redemption cards | Richardwho items |



Birchcroft China Items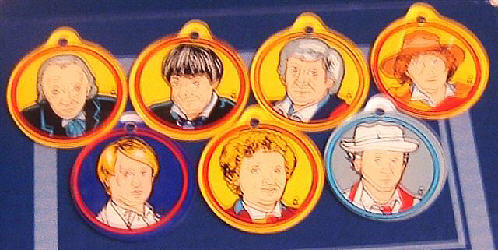 7 discs designed for the Doctor Who Pinball Machine featuring Doctors 1-7
| | | |
| --- | --- | --- |
| The Dalek Chronicles | Paradise Towers Camera Script | Tardis Display |
| | | |
| --- | --- | --- |
| Bathroom Buddy | Plates | Transmat Dalek |
| | |
| --- | --- |
| Postcards | Postcards |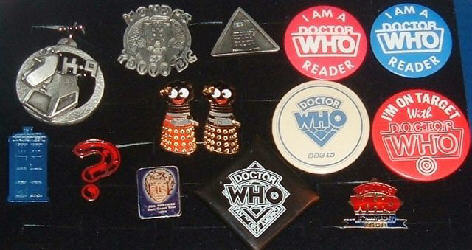 Badges and Pins
| | |
| --- | --- |
| Tardis Birthday Cake | Pink Dalek Cake |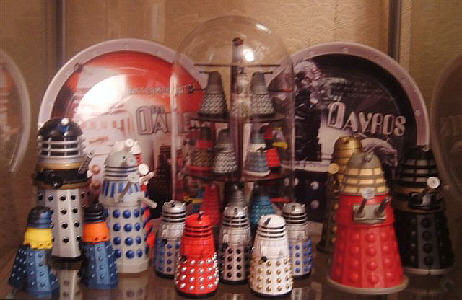 Dalek Army
Dalek & Davros plates, Dapol Daleks, Dapol/Marx Daleks, Cherilea Daleks, Corgi Daleks, Rolykin Daleks, Black Clockwork Dalek
Davros and Company

Davros head, Dalek Cookiejar, Dapol K9 (green & grey), Corgi K9, Dalek Tin, Corgi Tom Baker, Corgi Tom Baker & Bessie, Doctor Who keyring, Tardis Keyring, & a fabulous patch.

Cybermen

Cyberman Cookiejar, plate, Dapol Cyberman, Corgi Cyberman, Sonic Screwdriver pen, Dinky Tardis, Tardis Moneybox, Fine Art Casting Tardis, Playing Cards, Harlequin Miniatures
| | |
| --- | --- |
| Tom Baker Birthday Cards | Postcards and Badges |

Miniatures
| | | |
| --- | --- | --- |
| Scott and Squeet | Replica Cyberman head | Scott and Squeet |

Caroline can be contacted by


All of the pictures on this page are the property of Caroline Sinclair and may not be used or reproduced in any way without her explicit written consent.



Have a Collecting question then try the



If you collect Doctor Who costumes, props, scripts, Artwork, set designs, or commercial items we would love to add your collection to the list. (click) For more information...