Brian Jones

Brian Jones of Norwich in the United Kingdom is a avid collector and has enjoyed the show since he was a very young boy. He remembers seeing some of the William Hartnell shows on the TV but it's Patrick Troughton that captured his favor. When Jon Pertwee took over the role Brian would tape some of the episodes on his audio recorder. By the time Tom Baker became the Doctor Brian was working and he would have to rush home to see the show, missing the first 5 to 10 minutes. Not completely persuaded Peter Davison was a convincing Doctor, Brian thinks Peter may be better suited today to reprise the role as a more mature man. Colin Baker and Sylvester McCoy's runs were so short that Brian believes they never had the chance to develop the roles. Paul McGann is not on Brian's top 100 Doctor choices.
Brian has attended many of the signing events held at the Kulture Shock store in Norwich. He has been to Longleat on several occasions where he was lucky enough to get Jon Pertwee's autograph and picked up a pirate badge that was on ACE's Jacket. His collection has grown quite a bit over the years, so much so that you can find Brian on eBay occasionally selling off a few bits to make room for more. Look for him on eBay as Dalek10.

Enjoy this small sample of Brian's Collection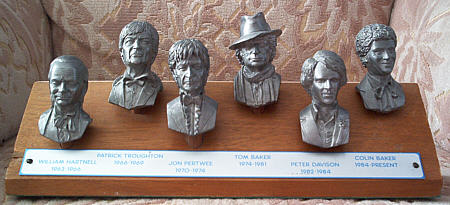 Six Doctors Bust Set
Released by Fine Art Castings in 1985
Limited Edition Ring Watches
Released by Aqua Janeiro in 1998

Fruit Machine
Released by Bell-Fruit in 1994
Police Box Placard

TARDIS Video Cabinet
Release by Harvard Associates in 1993
Doctor Who Chess Set
Released by MBI in 1992

Giant Robot
Released by Denys Fisher in 1977
Rassilon Seal Wall Clock
Released by Mister O Art and Design Workshop in 1998

Ice Warrior Model Kit
Released by Sevans in 1987
| | |
| --- | --- |
| Burtons Books In Hastings UK | Police Box vandalised around 2001 in Newport South Wales. |


Brian can be contacted by e-mail at brian.jones80@ntlworld.com


All of the pictures on this page are the property of Brian Jones and may not be used or reproduced in any way without his explicit written consent.



Have a Collecting question then try the



If you collect Doctor Who costumes, props, scripts, Artwork, set designs, or commercial items we would love to add your collection to the list. (click) For more information...