The preferred snack of the fourth Doctor, Jelly Babies are a soft chewy candy in the shape of little people. Manufactured in England, they can be found at specialty sites on the web.
The official munch food of Dr Who viewing night at the Briggs House.

Trying to capitalize on the popularity of Dr Who, Bassett made these promotional bumper stickers c1985.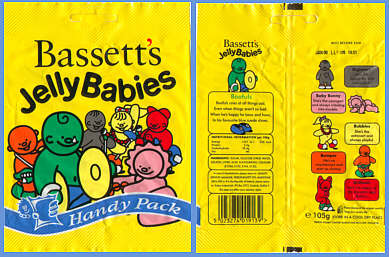 Bassett's Jelly Babies from Trebor Bassett LTD of Maidstone England feature a cute cast of baby charters on the back of the package. Baby Bonny, Bigheart, Bumper, Bubbles, Boofuls and Brilliant.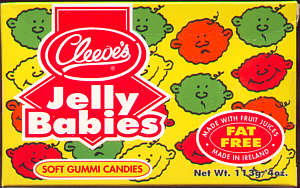 Cleeve's Jelly Babies from Clara Candy LTD of Dublin Ireland come in a hard cardboard box.