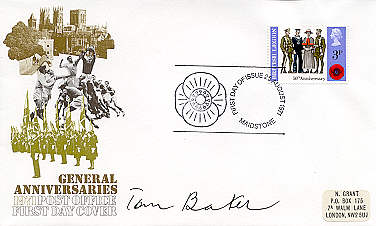 General Anniversaries
First Day Cover
Signed by Tom Baker
1971 first day cover postmarked 25 August 1971 in Maidstone for the 50th anniversary of the British Legion.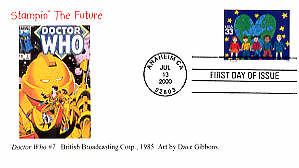 Stampin' the Future
First Day Cover
Canceled 7/13/2000 in Anaheim California, this is number 7 in a series.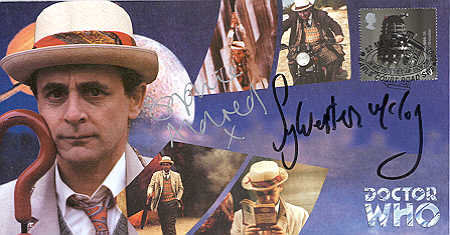 Special Tribute to Sylvester McCoy
Signed By Sylvester McCoy
Signed By Sophie Aldred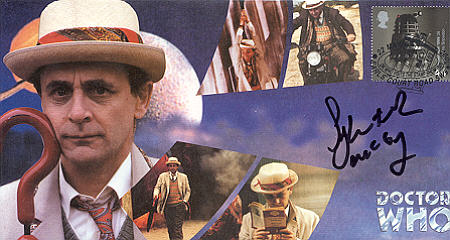 Special Tribute to Sylvester McCoy
Signed
First day cover of the British issued Dalek millennium stamp. The stamp was canceled at Baker Street, London on 1 June 1999. The Cover was hand signed by Tom Baker.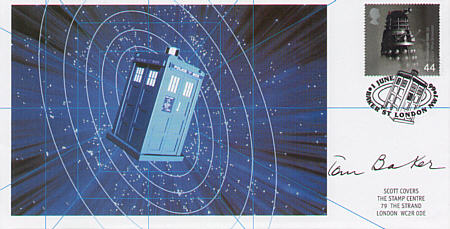 Front

This attractive envelope features the first ever Doctor Who stamp (showing a Dalek) issued by the British Royal Mail. It also has a fantastic illustration of the TARDIS flying through time and space.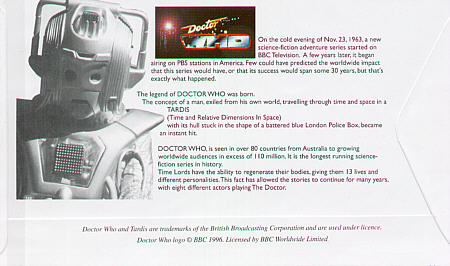 Back

The back features a write-up about the origins of the Doctor Who BBC serial, a picture of a Cyberman, and the latest logo for the show.