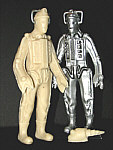 These are the prototypes of the last action figures produced by Dapol before the BBC withheld the manufacturing license from the company. These marked the shift to the new style figure and a major leap in quality. The Early Cyberman being the first release in this new style followed later with the Patrick Troughton figure. Loosing the license before the Hartnell and Yeti figures could be released they only made it to the prototype stage.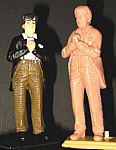 Philip Robinson sculpted the original masters out of super-sculpy, which the prototype pattern molds where made from. Two sets of polyurethane resin prototypes were made from the master molds. These would be sent to Hong Kong for tooling through a laser scanning process that records every detail of the figures. This would yield the metal injection molds used in the mass manufacturing of the figures.
The originals are still with Philip. It's a shame the Yeti and first Doctor figures never made it to production but I'm please to have a set to share.