Special effects mask from the Doctor Who TV show.
This mask is from the Tereleptil costume used in the 1981 serial (5x) "The Visitation".
Originally created by Imagineering Special Effects, this particular latex mask was cast in 1988 from the original fx mold used during the 1981 filming.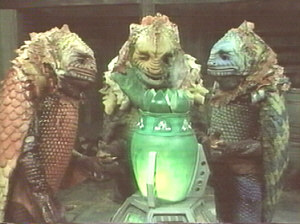 The Costume as seen on the TV Show. This mask is the one used for the costume on the left, which was a non speaking role so the mouth did not need to move.